Django -- Sergio Corbucci
I was first told of Django by my roommate in Australia in relation to Takashi Miike's Sukiyaki Western Django. Featured prominently in each is a man who drags around a coffin containing mysterious contents. Many already know the contents of the coffin, but I won't spoil it for those who don't because my girlfriend was definitely caught by surprise. It's a good film, though I wouldn't recommend those unfamiliar with Spaghetti Westerns start with it (is there a better genre name than "Spaghetti Westerns?"). Django has gone on to be a huge influence in pulp (sub)culture, so it may be worth checking out just for that.
Death Race 2000 -- Paul Bartel
Have you ever been driving down the street and seen a couple walking their dog on the road or a group of schoolchildren crossing at an intersection and thought to yourself, "50 points?" That's basically what's happening in Death Race 2000 except that it's a government sanctioned race across the country and the drivers are trying to rack up as many points as possible. And it's awesome. The amazing Roger Corman produced and it stars David Carradine and nutty Sylvester Stallone. This would make a great double feature with The Road Warrior or, in a pinch, Duel.
Graduation Day -- Herb Freed
This was my second Troma experience (the first being Mother's Day... they sure had a thing for event-based horror movies) and it wasn't much better than the first. To be fair, I kind of hate Lloyd Kaufman and The Toxic Avenger/Class of Nuke 'Em High stuff looks terrible so I'm biased to begin with, but Graduation Day is really dull. The most it has going for it is that Linnea Quigley in an early role and a pre-Wheel of Fortune Vanna White. It also has some mildly amusing silliness, but unless you're really curious about Vanna White, I'd say stay away.
Emperor of the North -- Robert Aldrich
Hell, yeah! Emperor of the North rocks! Ernest Borgnine. Lee Marvin, and Keith Carradine (another Carradine!). Borgnine is a train conducter who has zero tolerance for hobos riding his line. Marvin and Carradine are hobos determined to ride that line. Definitely supplants Zero Effect in my
Top Five Films: Oregon
. Emperor of the North is a great battle between adversaries and had me thinking of double features once again. The Taking of Pelham One Two Three (the original) would be perfect. Both feature main characters diametrically opposed, all of whom are fantastic actors. Of course, I'm a mark for movies that take place on a train...
13 Tzameti -- Gela Babluani
The story of why this film landed on my cue is probably a bit more interesting than the film itself, though the film isn't bad. It's about a gambling ring where contestants stand in a circle holding revolvers with one bullet to the head of the person in front of them. Onlookers place bets. The signal is given. Some live, some move on to the next round. OK, it's a pretty cool concept.
It was recommended to me by a very drunk guy at the Hollywood Theatre while I was trying to change the marquee and put up new posters. This guy was with two friends, boyfriend and girlfriend, who were in the vacant lot next to the theater having a huge argument about something stupid (though she kept saying how much she loved him and wished he would just open up to her). Anyway, the friend of the couple in between recommending movies to me confessed to having sex with her in the bathroom of the theater that night while the boyfriend was watching the movie and after the boyfriend left, the two remaining made out vigorously in front of the theater before taking off. Love...
Anyway, what did I take away from all of this? Star George Babluani looks like a cross between John Cazale and Zach Galligan.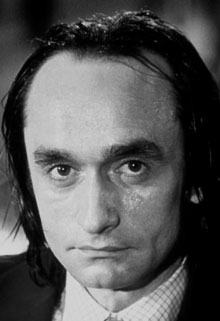 =
Holy Mountain -- Alejandro Jodorowsky
Holy Mountain signaled the unintentional immersion into movies that features LOTS of nudity and the following reaction from my girlfriend: "What are you watching? This is weird." And she's not wrong (about any of the movies), but Holy Mountain is simply beautiful to look at. The set design is vibrant and kind of astonishing. I got a little restless in the middle when it was filling in backstories for the seven other travelers, but I can't recommend Holy Mountain enough. And to be fair, I think my girlfriend was turned off by a certain grooming scene. I can't wait to watch Sante Sangre after this and El Topo.
Zardoz -- John Boorman
Do not see Zardoz. You'll see that it's John Boorman's follow-up to the amazing Deliverence. Don't give in. You'll see Sean Connery dressed like some wrestler with an absurd mustache:
There, you've seen it. Now forget about the movie. Forget about it's reputation as a
cult classic
. It's terrible. The best part about Zardoz is the reveal of the name "Zardoz." One exception to these warnings: if you like to take drugs and watch movies, this one seems ideal. You may even be able to make some sense of it all.
Enter the Void

-- Gaspar Noe
I've deliberately avoided Irreversible, though I think I may hazard a watch in the near future. Enter the Void isn't exactly pleasant, but it doesn't have a 9-minute rape scene either. It's also quite fetching to look at. The first-person perspective doesn't feel too gimmicky and the flashbacks fit in with the hallucinatory nature. If only Enter the Void wasn't 2 hours and 40 minutes long. Much of that time is spent floating around or in 2001 "Star Gate"-esque visuals. Still, I have to recommend it based on visuals alone. It's like little else I've seen recently. Also, much like the previous two films, drugs could very well enhance the experience greatly.
Inserts -- John Byrum
A "boy wonder" silent film director can't make the transition to shooting sound films and has been reduced to making pornography in his home. What ensues is very talky and seldom clothed film about desire and passion, though not necessarily sex. Inserts feels very much like a play, not just because it takes place in one location, but because it uses lots of long (in duration) shots even when there are cuts, they aren't very noticeable. I haven't found any indication that it was ever a play, though. It has a great cast: Richard Dreyfuss (this came out the same year as Jaws, which triggers a certain cognitive dissonance in me), Bob Hoskins, Jessica Harper (
Phantom of the Paradise
) , and Veronica Cartwright (The Birds, Alien) and if you've ever wanted to see the latter two nude, well, that's this movie. It was especially weird for me because Cartwright has featured prominently in the X-Files episodes I've watched lately, but that's something else entirely. Anyway, it's a pretty good movie and different from most movies I've seen recently in a non-thisistheweirdestthingever type of way. Ironically, I can't think of a single insert in the whole film.
Possession -- Andrzej Zulawski
OK, so this wasn't a Netflix movie, but that's only because it's unavailable on Netflix. I had to borrow a downloaded copy from someone and it places me squarely back in "thisistheweirdestthingever" territory. It plays as a melodrama racketed up a few notches for the first hour then just goes of the rails in a very organic and deliberate way. Sam Neill and Isabelle Adjani seem totally out of their minds the whole time which doesn't help in figuring out what's going on. Add in that everyone seems to have a double and I don't even know what to tell you anymore. My most enduring thought during Possession was of Cronenberg's The Brood and how he was going through a messy divorce at the time which resulted in a very angry movie and that must be what happened here. Imagine my surprise and delight (with myself, not in Zulawski's failing marriage) to find Wikipedia stating (because Wikipedia talks to me) that Zulawksi was going through a similar experience and people often associate Possession with The Brood. If I had to classify this film, I'd call it hyper-melodramatic supernatural horror.